The key to safe disposal is the segregation of waste material at source on your business premises
Veterinary treatment waste in the form of empty medicine containers, syringes, aerosol cans and needles, are classified as Hazardous Waste by the Northern Ireland Environment Agency. Storage, transport and treatment of this material is subject to the Hazardous Waste Regulations (Northern Ireland) 2005. These regulations include the requirements to pre notify the NIEA at least 3 working days prior to movement, and for material to be transported and disposed of using a Consignment Note licence, that is purchased from the Agency for each transported load.
Emerald Isle Recycle operates a cost effective veterinary treatment waste disposal service for NI farms and businesses. Emerald Isle Recycle will ensure your veterinary treatment waste is treated in line with all current regulations, and ensure your business is compliant with Farm Quality Assurance and waste regulation requirements.
To ensure the safe transport and disposal of veterinary treatment waste, it is essential the waste is segregated into the 2 separate waste streams listed below -.
Veterinary Treatment
Waste Stream 1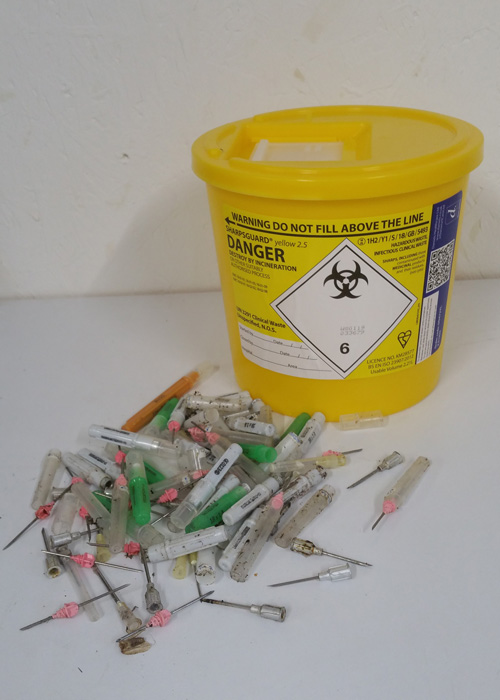 Sharps box containing used sharps and needles. (NO Liquids)
Veterinary Treatment
Waste Stream 2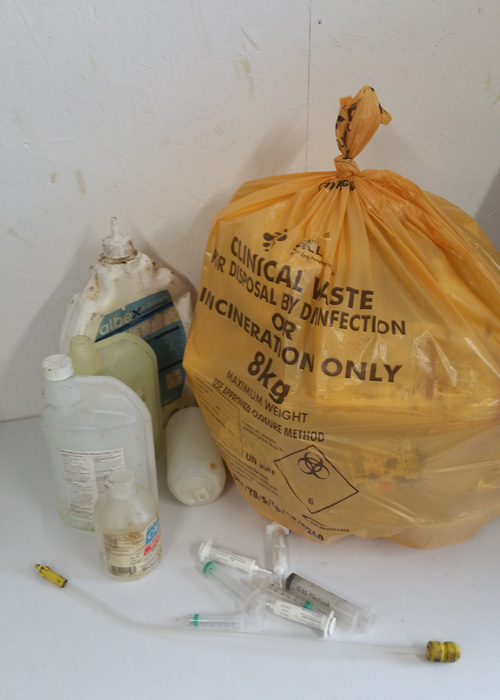 Clinical waste sacks containing empty glass and plastic veterinary treatment packs/containers, syringes, empty aerosol cans, AI straws, and PPE. (NO LIQUIDS) 
Veterinary Treatment
Waste Starter Pack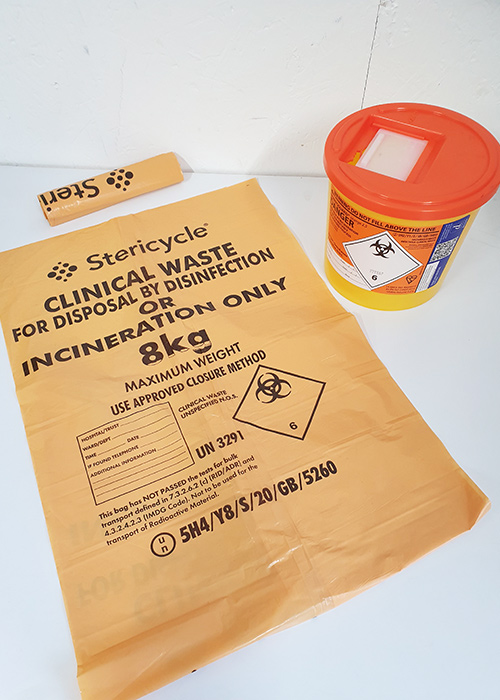 includes one sharps box and four clinical waste sacks.
(The starter pack can be ordered on the registration form at the How To Register page.)

All customer information is stored on our dedicated IT system. This system is used by our sales team to manage farm collections based on routes within the NI postal code system. The team will contact customers directly, and establish how much material requires collection on individual farms. 
Collection drivers will make contact with individual customers on the day preceding collection, to confirm the collection date.
Additionally, customers can request a collection at any time (subject to minimum quantity requirements), and we will endeavour to make the collection within an acceptable time period.
Customers will be invoiced for a Call Out/Admin Fee per collection, and for each KG of veterinary treatment waste collected. Please contact our sales team for current disposal costs.
Certification
All movements of hazardous waste must be pre notified to the Northern Ireland Environment Agency, at least 3 full working days prior to movement. All relevant documentation will be completed by Emerald Isle Recycle, and provided to your business. All documentation must be kept for a minimum of 3 years, and used to confirm compliance with assurance schemes and waste regulations.
Scheme Non-Compliance
All boxes/sacks will be inspected prior to collection, and will not be uplifted if they are found to contain mixed stream material in an individual box/sack, or excluded material. If excluded materials are found during processing, the box/sack will be rejected, quarantined and disposed of correctly. Additional disposal charges will be passed onto the customer.
Regulation
All hazardous waste disposal services are subject to the Hazardous Waste Regulations (Northern Ireland) 2005, and are managed by the Northern Ireland Environment Agency (NIEA).
All Dangerous Goods (as defined by ADR) are consigned and transported in accordance with ADR regulations.